After 40 years in construction and remodeling, there isn't much Peter hasn't seen or done. Without passion for what we do or who we serve, our job is just "tired tan," as my mother would say—dull boring, and monotonous. We're just going through the motions. However, if a job comes along that peaks your interest, that opens up new opportunities and provides inspiration, then you will find a new and awakened purpose.
When a friend of ours (a veteran diagnosed with ALS) gave us that opportunity to design and build a new home that was accessible, comfortable, and safe for himself and his family, our eyes were opened to a need in the community that had yet to be filled.
And we wanted to be a part of it.
As we went through the process with the family, we discovered that many design features in this home were instinctual. Things like 36" doorways, 48" wide halls and stairways, a roll-in shower, and plenty of space in case a wheelchair was needed. These were all common-sense design decisions.
However, there were some gaps in our understanding and knowledge.
So, Peter took the Universal Design Certified Professional Training through the National Association of Remodeling Industry (NARI). This course helped lay the foundation for understanding these principles and how they would apply to our accessibility remodeling.
But there were still holes.
We looked at Certified Aging in Place (CAPS), but we wanted to make sure that in our designs, the home renovations worked for everyone (family, caregivers, friends both now and into the future). So, we started our search and discovered the Living in Place Institute. In September 2017, the door of understanding blew open when Peter took their course. The two days spent in class took the small vision for accessible remodeling and increased it tenfold. We were challenged with the concept that every home should be accessible, comfortable, and safe for everyone who enters.
This included homes that are safe for children with autism, people of all ages with vision or hearing loss, those with temporary or long-term mobility challenges, or chronic health issues. The course included examples of products and resources to help ensure our design works not only for now but serves the customer/family well into the future. This also helps our customers select flooring, fixtures, and other key items to make their home more comfortable.
A few weeks ago, another door opened through the Living in Place Institute. I completed the training to be a Certified Living in Place Professional (CLIPP), so now Peter is not the only one with letters behind his name. This will aid me as I work with customers to help make certain the items they select for their home will allow it to be more accessible, comfortable, and safe.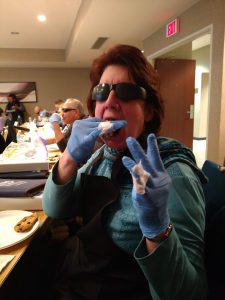 To find out more about the CLIPP Certification, you can go to their website and join us in the growing movement of designers, builders, manufacturers, educators, OT's, and others who want to work towards accessible housing for all.
We founded Homestyle Builder Inc. out of a need from a friend—but we discovered a new passion, an almost renewal for our lives. The projects we design and remodel for our veterans, those with disabilities, and the aging population have given us a new purpose. And we couldn't be more thankful for the opportunities given to us as professionals and as people.
P.S. This little family company got to sit in class with 4 (out of 300) certified Master Kitchen and Bath Designers (CMKBD) 5 members from Habitat for Humanity, an HGTV remodeling personality, and 4 representatives from the Veteran's Administration. Not bad for a couple of people from Minnesota.
-Geniene Haack