Choices, choices, choices. There is an endless sea of choices. Whether it be shiny, matte, smooth, textured, round, oval, square—there are just so many choices. Okay, big building, a lot of vendors, I need to find my way. I'm looking for purple. If I could just find the purple, then I could find my way to the Living in Place Showcase. But everywhere I look there are more choices—nickel, champagne, brass, hand wave, tap, voice activated. Large flat walls or deco mosaics?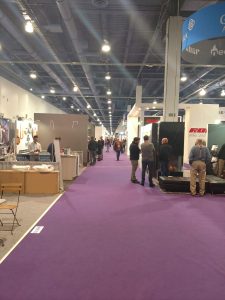 Ah, there it is. I finally found the purple…but wait, it goes on and on. An endless torrent of purple. Maybe this person can help me. What? Do I want a demo of a tornado? "Much more sanitary and easier to clean," they tell me. Have you a "Washlet?" they ask. No—at least I don't think so. I must be dreaming or in a corn maze of metal fixtures because I can't find my way out! Help! I'm being buried in options, choices, possibilities.
My mind is overloaded by all the sensory stimuli. And the purple—the purple just keeps going on and on. Wait…that sign looks familiar. Have I finally found my way out? Nope, not even close. But I did find my way to the Living in Place Showcase at the KBIS (Kitchen and Bath) International Show in Las Vegas. 
In February of this year, Peter and Geniene booked a flight, checked into their hotel room, and made their way to Las Vegas to complete their training with the Living in Place Institute. After which, they had the opportunity to help serve as hosts/guides at the KBIS showcase for three days.
The annual KBIS show is an immense trade show that offers the opportunity for kitchen and bath designers, builders, remodelers, manufacturers, and other members of the trades to see the latest and greatest. There are endless seminars, panel discussions, and product demos as well. They learned (more than they wanted to know) about toilets at Toto and wall mount options from Viega. Discovered Geniene's love of the French door oven from Monogram, as well as the Induction Cooktop. They found some amazing storage options from Re-Va-Shelf—and learned about endless lighting options for every need or want imaginable from Tresco. And those were just some of the products and options.
They were able to sit in on the discussions between leading trade professionals as to the importance of good design and products and how that helps to ensure everyone's home can be accessible, comfortable, and safe. Ergonomics (a key topic for both bath and kitchen design) is how the customer uses or accesses fixtures, storage, and common household tools.
Thank you to: Sabrena McCarley, MBS-SL, OTR/L & Judy Delaware, OTR/L for their help in understanding a customers needs through the eyes of an Occupational Therapist; Julie Schuster, Toni Sabatino & LaDonna Eriksen (any many others) for encouraging us that "safe" design doesn't have to be ugly or institutional; Chris Tress (Tresco Lighting) and Brad Hintze (Control4) for helping us catch a vision for the amazing options now available in lighting and home integration; Sheri Gold – National Showroom & Design Manager for Monogram Design Center in Chicago for demonstrating that even the kitchen can be a safe environment for everyone.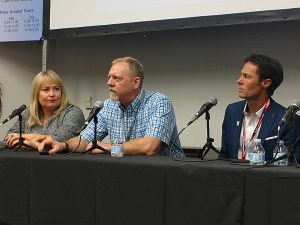 We also participated in presentations about making a difference in our communities through Habitat for Humanity & Working with the Veterans Administration – specifically the Specially Adapted Housing Grant Program. This lively discussion included Lifetime personality Jennifer Bertrand (Military Make-overs) Karl Champly from the DIY Network, and VA representative Jason Latona (both men were a part of the same CLIPP class with us).
Special thanks to Maria Stapperfenne & Barbara Barton Certified Master Kitchen Bath Designers (CKMBD) & CLIPP for investing their time and energy into teaching us during our Living in Place Institute training.